What is Coaching?
Coaching is a process that helps the clients to achieve their personal best and to produce the results they want in their personal and professional lives.
A life coach is a proffesional who helps you reach a goal or make a change in your life.
Usually, there are obstacles that hold the client from achieving those goals. The coach helps to explore and clarify things in order to overcome those obstacles. Then build an actionable plan to achieve those goals or changes.
Who Hires a Coach?
Winners hire a coach (Few examples are: Oprah Winfrey, Leonardo DiCaprio, Bill Clinton, any many more super successful people).
Athletes need an objective perspective and insight of a coach to improve their performance, someone who can see what they cannot see. The same is true for CEOs, entrepreneurs, leaders, housewives, teachers, ex-pats and you.
Simply put, a life coach is someone professionally trained to help you maximize your full potential and reach your desired goals.
* The life coach supports YOU in your journey to awaken the genius hidden within YOU.
* Listens to what YOU are saying and what YOU are not saying.
* Helps YOU identify what holds YOU back and gives YOU the tools to believe in YOURSELF.
* Encourages YOU to live to YOUR full potential, and live the life YOU always dreamed of.
* YES, COACHING IS ALL ABOUT YOU !!!
The coach helps you achieve your goals or overcome adversities by reviewing your current situation, identifying limiting beliefs and other challenges you may face. Then, explore the options and needed action to help you achieve your goals or solve whatever problem you are facing.
The power of coaching lays in the fact that it allows you to get out of your head and see adversities as well as opportunities from different perspectives.

Not like mentoring, which is external guidance, coaching is an internal transformation process. You feel it in your gut and in every fiber of your body, when you hit an insight or "aha" moment. You will know it's the right thing for you.
A Coach Can Help You By:
Creating a safe space for you to express yourself and to be heard.
Asking powerful questions to evoke transformation.
Identifying what you really want without judgment.
Clarifying what needs to be addressed.
Encouraging you to go deep and self-discover yourself.
Accelerating your growth.
Nurturing and evoking strategies and a plan of action based on what fits best with your goals and values.
Being your accountability partner to increase your productivity and chances to succeed.
In many cases, just saying things out loud without being judged can help you achieve a breakthrough.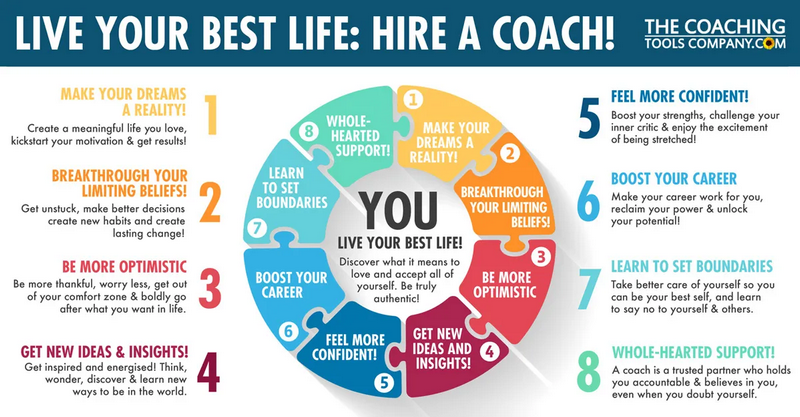 Myth Busters
"Coaching is only for people who have problems or who can't succeed on their own."
Busted.
Life coaching is for anyone who wants to improve their life. Whether you want to better your life financially, professionally, have a healthier lifestyle or make more meaningful personal connections.
Even the most skilled, successful people can benefit from coaching. As a matter of fact, most successful people do hire a coach. This is probably one of the reasons they are so successful.
"Coaches let you vent, then they offer advice."
Busted.
Coaches have great listening skills that allow them to listen to what the client is saying and what the client is not saying.
However, coaches are objective and will ask powerful questions that will help you resolve inner blocks and find the customized solution to your problem.
One of the cornerstones of coaching is that people are CREATIVE, RESOURCEFUL and WHOLE.
Meaning, you are creative enough to find the answers to your problems.
You are resourceful enough to find solutions.
And you are whole, not broken and does not need any fixing.
The coach need not be an expert in their clients' field of work.
A coach doesn't have solutions to your problems. In essence, the coach doesn't deal with your story, but with the human behind the story. And this is done by powerful questioning.
Why Should You Work With a Life Coach?
People from all walks of life can identify a gap between where they are and where they want to be. They hire a coach when they want help closing this gap and reaching their goals.
Coaching is a vehicle that helps you get faster to where you want to go. Nonetheless, coaching is not a shortcut, you still need to do all the hard work yourself.
Coaching assists you in focusing on what is important and what you can really do to get there even (and especially) when you don't believe in your own abilities.
You must stay committed and measure your progress. Your life will not change overnight. However, it can start to improve after the first session.
There's a reason that life coaching is the second-fastest growing profession in the world – because it works for people.
How Does it Work?
The coaching session can be done Face-To-Face, on the phone or via video chat. It depends on the convenience of the client and the coach.
The coach asks you powerful questions that make you go deep into yourself to find the answers to your problem.
Transformation is a process that requires time. Therefore, it is recommended to have a series of sessions. One a week, every other week or once a month.
Your coach doesn't have to be an expert in your field. He is an expert in how your mind works.
How Much Does That Worth to You?
Coaching gives you value that is hard to put a price tag on.
How much does being happy worth?
When you go to see a doctor, you are willing to pay whatever it takes to get rid of the pain and suffering.
When a doctor cures you of pain, it is priceless. A doctor can heal your body, whereas a coach can help you heal your soul.
What Does It Require From You?
For each coaching session, you will need to bring a topic, issue, or anything that is on your mind, and you would like to resolve it. Other than that, a coach will need two things from you:
BE OPEN MINDED!
Whatever brought you here, will not take you there. Since your current views of the world are what is holding you back right now. You must be open minded to new perspective and ideas in order to make the necessary changes in your life.
BE COACHABLE!
You are the one who has to do all the hard work. Don't waste time and money on coaching if you are not fully commited to do whatever it takes.
A coaching session is a path to better your life, not a place to complain and runt. Remember that the coach doesn't have the solutions to your problems, but you need to trust your coach because he can help you find the solutions within you, that will that will your life forever.
Before you decide on coaching, ask yourself these questions:
Am I happy with my life or business as they are now?
Am I clear about my goals and life purpose?
Am I willing to do whatever it takes to change my life?
Rap It Up
You've achieved a lot in your life so far, but you need help getting to the next level, get unstuck. A life coach can help you determine what matters to YOU and help you overcome obstacles (most of which are only in your head) and get you moving toward your goals. Most successful people hire a coach because a coach can see what you can't. It's as simple as that.